Deck the Halls: Creative Christmas Tree Decorating Ideas for a Memorable Holiday Season
30-10-2023
The Christmas tree is the heart of your holiday décor, and decorating it can be a cherished tradition that brings joy and warmth to your home. This year, why not switch things up and create a beautifully decorated Christmas tree that stands out and adds an extra touch of magic to your festive celebrations? In this article, we'll explore some creative and unique Christmas tree decorating ideas to help you make this holiday season truly special.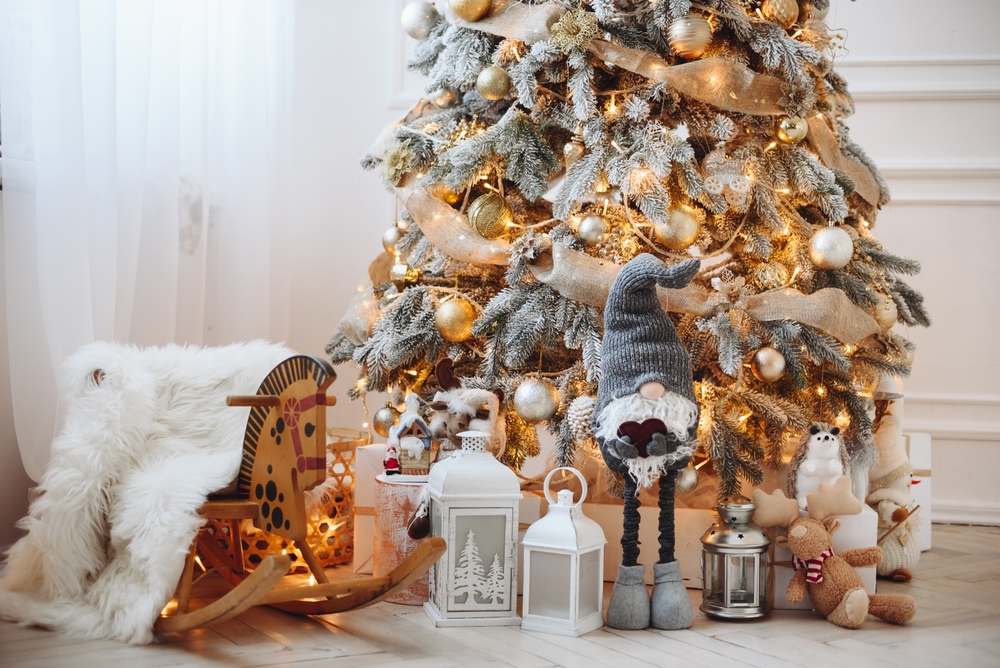 Choose a Theme
Start your Christmas tree decorating adventure by choosing a theme. A theme can add a cohesive and unique look to your tree. Some popular themes include:
Traditional Red and Green: Classic, timeless, and always in style, this theme combines rich reds and deep greens for a festive look.

Winter Wonderland: Decorate with icy blues, silvers, and white ornaments to create a winter wonderland on your tree.

Rustic Charm: Use natural materials like burlap, wood, and pinecones to give your tree a rustic, country feel.

Nautical or Coastal: For those by the sea, a nautical theme with seashells, anchors, and beachy colours can be a unique choice.

Vintage: Go retro with vintage ornaments and heirlooms for a nostalgic and charming tree.
Lights First
Before you start adding ornaments, make sure to string your lights first. Choose warm white or multicoloured string lights, and evenly distribute them throughout the tree for a beautiful glow.
Layer Garlands and Ribbons
Add depth to your tree by layering garlands or ribbons. You can use classic tinsel, bead garlands, or luxurious satin ribbons in your chosen colour scheme.
Ornaments Galore
This is where your theme truly comes to life. Hang your ornaments with care, mixing and matching sizes, shapes, and textures. For a vintage theme, look for antique-style ornaments. To create a winter wonderland, opt for snowflake-shaped or crystal ornaments.
Personal Touches
Add personal touches to your tree. Consider incorporating handmade ornaments, family photos, or ornaments that hold sentimental value. It's a wonderful way to make your tree truly yours.
Tree Topper
Choose a tree topper that complements your theme. A traditional star, a glittering angel, or a unique topper like a Santa hat can add a festive finishing touch.
Tree Skirt
Don't forget to dress the base of your tree with a tree skirt. You can match it to your theme, using a classic red and white skirt or something more unique like a faux fur or burlap tree skirt.
DIY Ornaments
Consider making your own DIY ornaments. Get creative with the family, crafting unique ornaments that can become cherished keepsakes.
Floral and Natural Accents
Add a natural touch with pinecones, holly, or sprigs of evergreen. Floral picks or artificial poinsettias can also give your tree an elegant and sophisticated look.
Countdown Calendar Ornaments
For added fun, use small ornaments as a countdown to Christmas. Hang one for each day of December, and remove one each day to build excitement.
Personalised Baubles
Include baubles with your family members' names or initials. Personalised ornaments add a special touch and make it easy for everyone to find their spot on the tree.
Keep It Kid-Friendly
If you have young children or pets, consider opting for shatterproof ornaments. This ensures that your tree remains intact and safe for all.
Lights and Action
Add a little extra magic with string lights that have built-in animations, creating a dynamic and captivating display.
Ditch the Tradition
Who says a Christmas tree has to be green? Experiment with different colours or even opt for a metallic or flocked tree for a unique and trendy look.
Balance and Symmetry
Achieve a well-balanced and symmetrical look by spacing ornaments evenly and using a variety of sizes and shapes.
Remember that there are no strict rules when it comes to decorating your Christmas tree. The most important thing is to have fun and let your creativity shine. Whether you choose a traditional look or go all out with a unique theme, your beautifully decorated Christmas tree will undoubtedly be the centrepiece of your holiday celebrations. So, gather your loved ones, put on your favourite Christmas music, and create lasting memories while decorating your tree this year.